AFRAM
---
The Official Cambridge University Afro-Americans Society for North and South Americans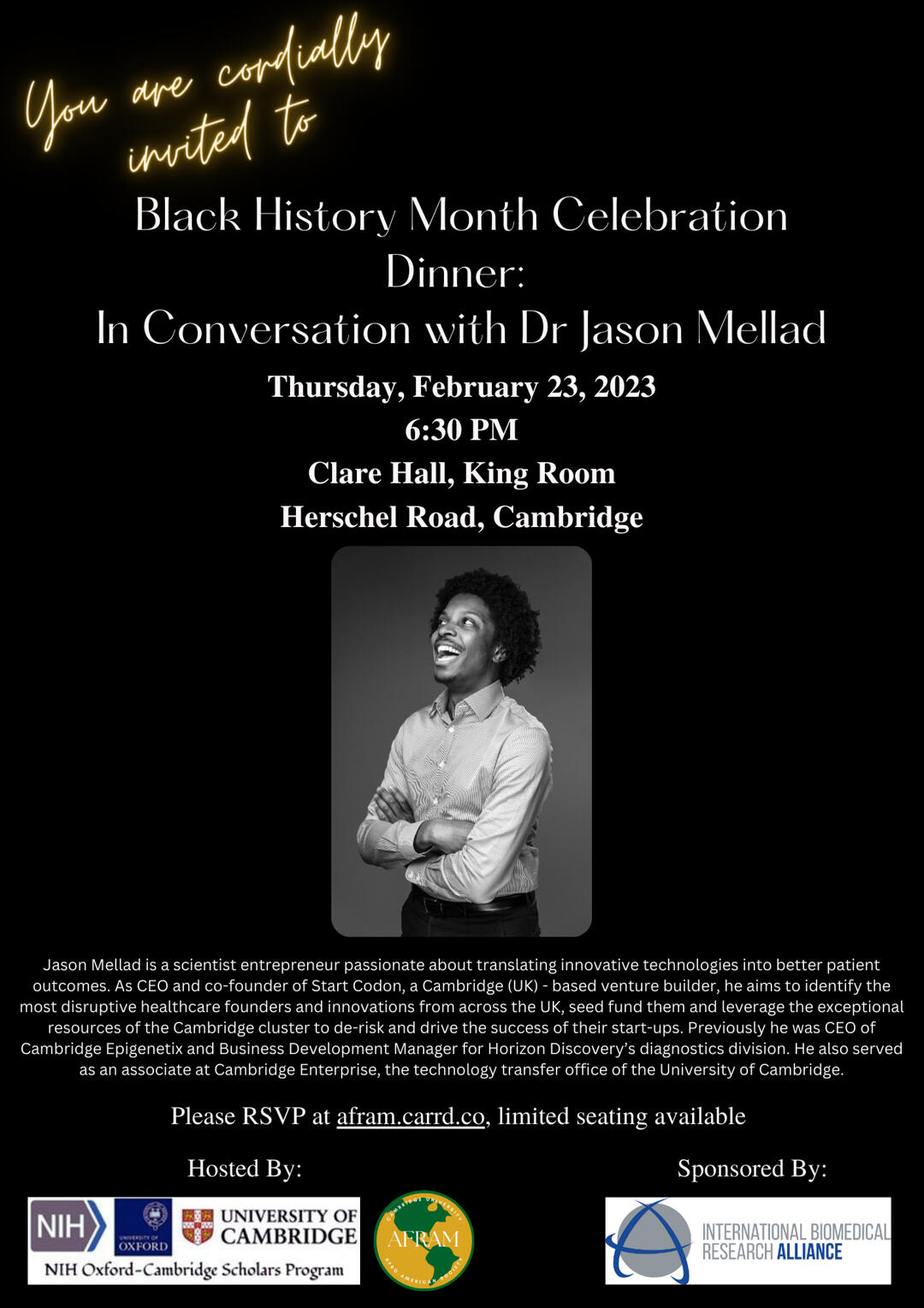 23 February 2023
Black History Month Celebration Dinner
We are excited to announce the first-ever AFRAM Black History Month Celebration Dinner! Come to learn from NIH-Oxford-Cambridge Scholar Program Alumni Dr. Jason Mellad as he shares his experiences along his career trajectory and tips for flourishing. RSVP below while seating is available!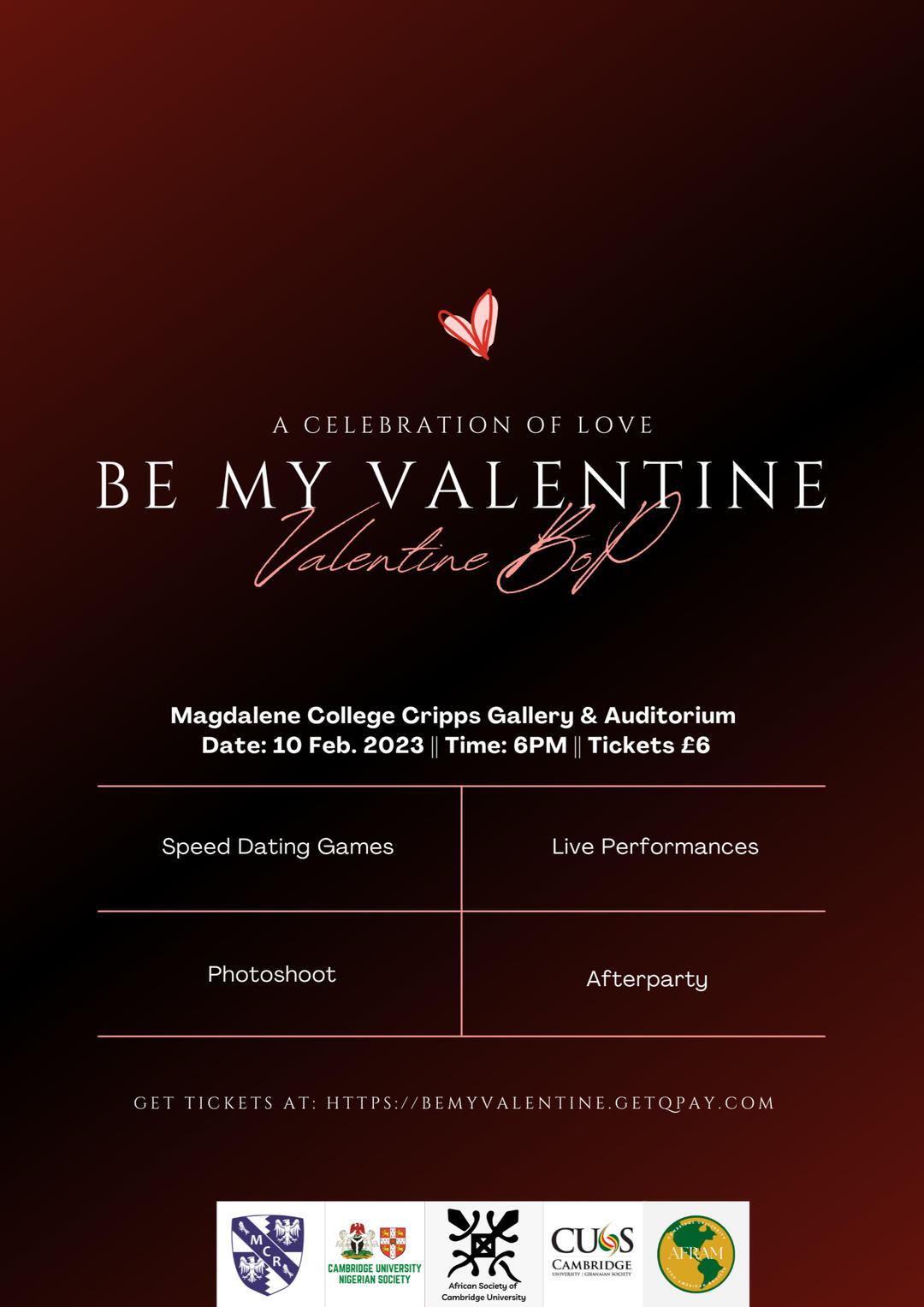 10 February 2023
Be My Valentine
In collaboration with ASCU, The Ghanaian Society, and The Nigerian Society, come celebrate Valentine's Day with us! We hope you dance, mingle, and maybe find your one during our speed dating event. Reserve your ticket at the link below while they last: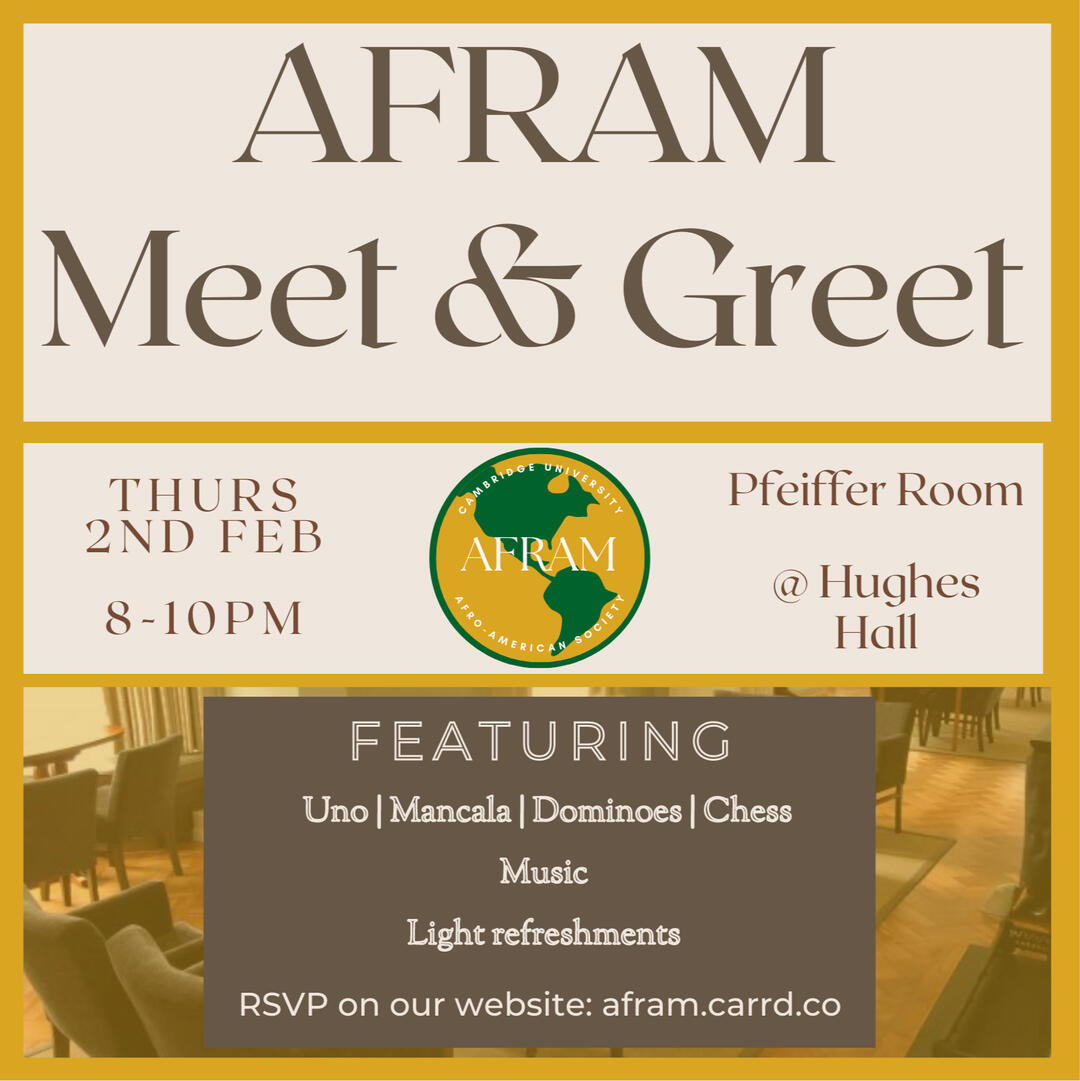 2 February 2023
Meet and Greet!
We invite you to meet the executive committee of AFRAM while enjoying a night of fun! Please RSVP at the below link: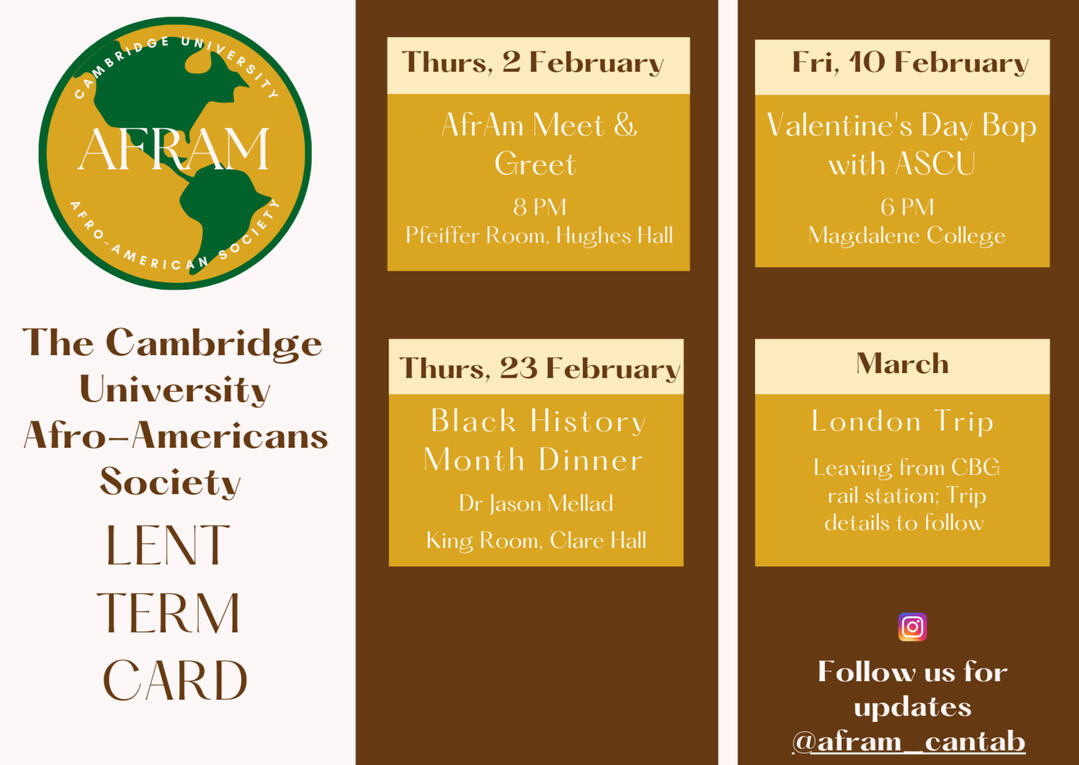 2023 Lent Term Events
We look forward to hosting you all with some new and exciting events for the Lent Term, including collaboration with our fellow African diaspora societies. See you there!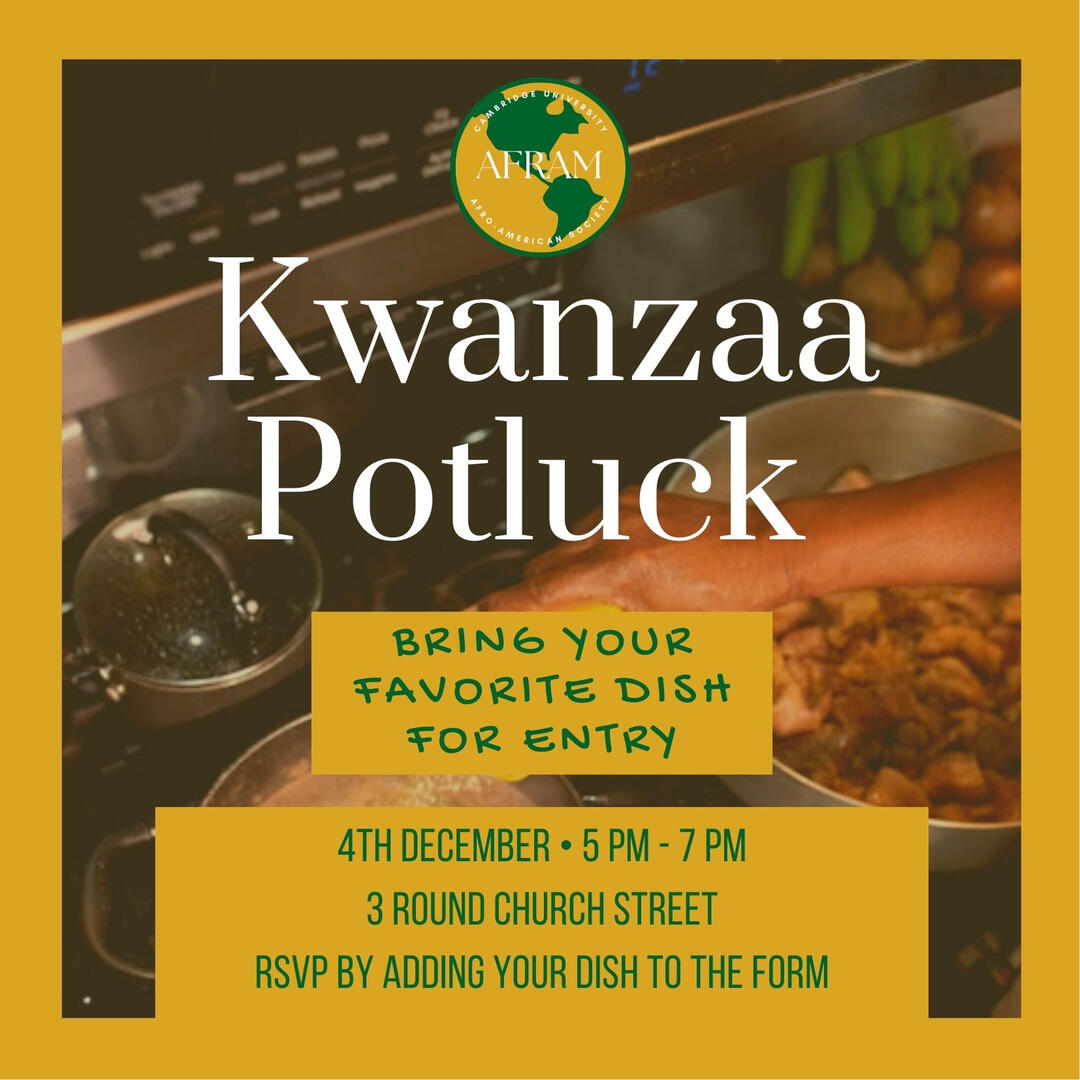 4 December 2022
Kwanzaa Potluck
Hey siblings! Join us for our early Kwanzaa potluck dinner on Sunday 4th December at 5:00pm. Use the form on our website (link in bio) to indicate what dish you're bringing and to RSVP. We look forward to dining with you.Also, if you're not sure what to bring, DM us for suggestions!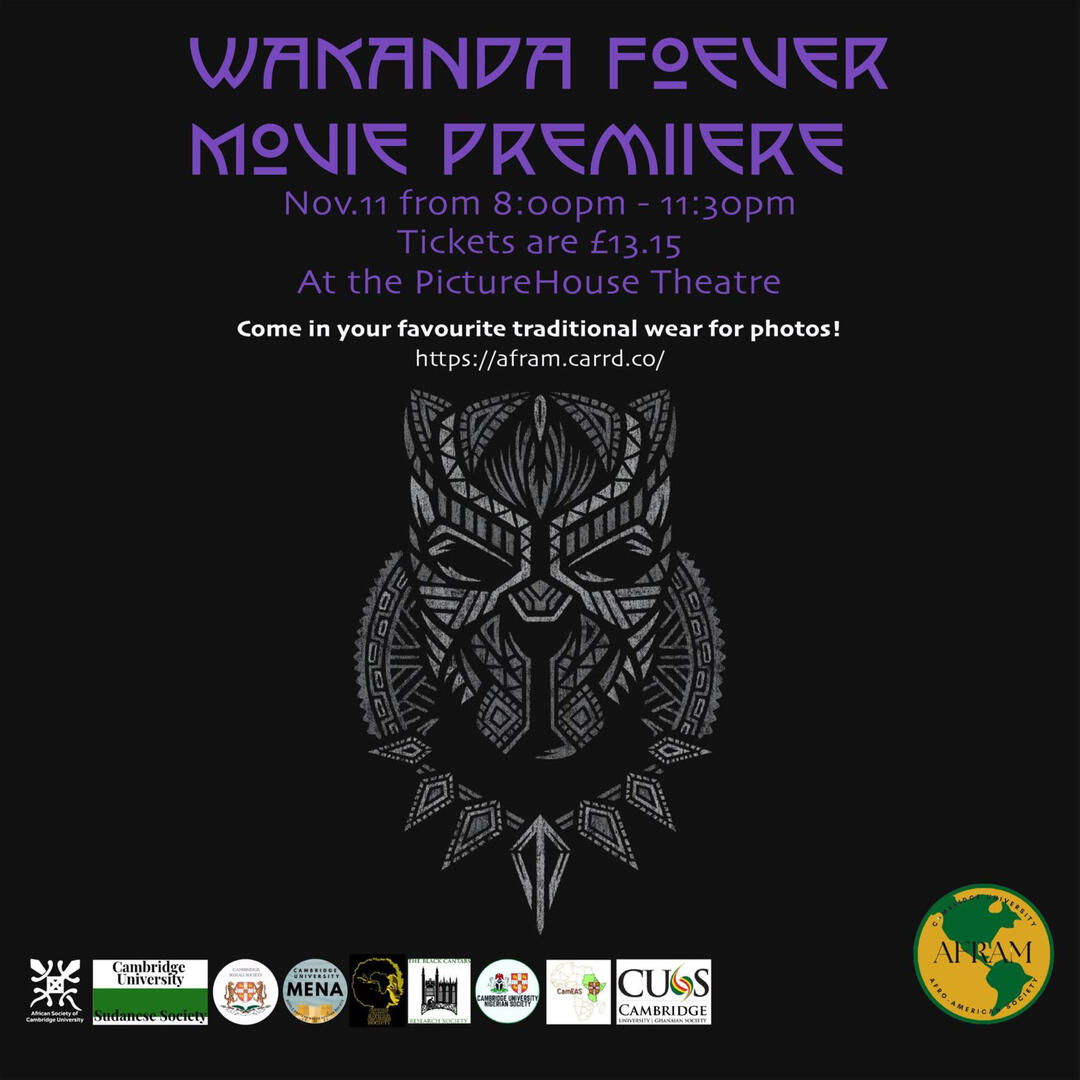 11 November 2022
Wakanda Forever Private Screening
Hey fam! Join AFRAM and Cambridge's Pan-African Society's for a private screening of Wakanda Forever! Come to Downing College's MCR from 6:00pm-8:00pm for good music and photo opps with your friends! Don't forget your traditional wear!
16 October 2022
Meet & Greet
Hey fam! Join the Afro-Americans Society for North and South Americans of African Descent (aka AFRAM) for our first event of the term — our Meet & Greet! We'll have uno, uno flip (because who doesn't live for the drama), mancala, and dominoes. There will also be light refreshments. See you there on Sunday, 16 October from 5-7p in the Gates Scholar Common Room on the 2nd Floor of the University Centre.
AFRAM'S OBJECTIVES
1) AFRAM'S aims shall be to promote the celebration and dispersion of intellectual, political, cultural, and social growth, empowerment, information, and collective advancement of people of African descent with historical roots in North and South America;2) AFRAM aims to also foster a more accessible and culturally affirming campus environment through community building, intercultural exchange and social justice education3) In pursuance of its aims, AFRAM will facilitate general meetings, discussions, programming, leadership and mentoring programs, and community service and cultural events within the Cambridge University community and beyond.